France - Uruguay 2-0
Belgium - Brazil 2-1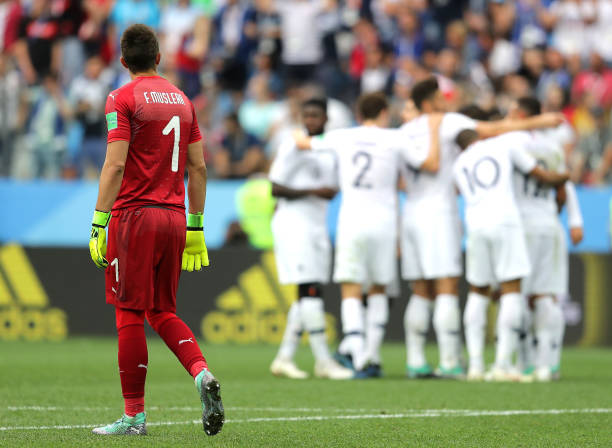 The path of defeat is a lonely one
Once again, this world cup lavishes upon us some wonderful, wonderful football. France - Uruguay, the first quarter-final, reaffirmed my opinion that France is the best team of the tournament. One of the games in which you're sorry one of the teams has to lose, specially when you think teams like Sweden are still in the competition. I expected France to edge it out, but despite the game being fairly balanced, the French were much more in control than I thought. Comfortable in possession, comfortable attacking, always finding spaces, great at taking a defender out, excellent understanding between the attacking players, Pogba, Giroud, Griezmann and Mbappe always knew exactly where each other was. Uruguay didn't play bad at all, but had a bit of a harder time to get into finishing situations. They missed the monster Cavani big time, and even though the 2-0 is harsh and not reflective of how close the game actually was, I'm left with the feeling that Uruguay played to their limit, whereas France was a gear or two below their top speed.
France taking the lead shortly before half time also didn't help much. Great corner, and great execution from Varane. The second goal... is a bit trickier. I'm very very sorry for Muslera, the predominant opinion seems to be he made a mistake, but Griezmann's shot was too powerful and the ball had too much of a spin to attempt a straight catch. It's a huge shame for his last contribution of note to the World Cup story to be this very weird goal, as at 32 I doubt Muslera will be called-up for the trip to Qatar in 2022. I would however, like to see everyone laughing at him attempting to stop that shot.
Pure class from Griezmann, choosing not to celebrate the goal, he understood perfectly how no one would like to be in that situation. And it was not an easy save, getting to the ball in the first place is an achievement.
My bet for the game was both teams to score, but unfortunately Tavarez's boys didn't even manage a thoroughly deserved consolation goal. France is in the semi-final where they will meet Belgium, weirdly enough.
Belgium beating Brazil is to me the biggest shock in the knock-out stages, a lot bigger than Russia beating Spain. And, if I said 2-0 was harsh for Uruguay, well, 2-1 is a very mild result for Brasil given how firmly out-classed they were. Belgium was incredibly well-organized and super-fast on the counter-attack, with Fellaini doing a great job in the middle and Lukaku being a constant source of danger for the Selecao defense. Silly own goal by Fernandinho and a super-strike by De Bruyne settled it, but Belgium could have scored a fair few more judging by the chances they got. Brazil didn't know what hit them, and they woke up really late to take the initiative in the game. The last half hour, specifically. Having not seen the last 20 minutes of the game or Renato Augusto's goal, I don't know how intense this pressure was going towards the final whistle, but obviously it didn't bear much fruit. Belgium is in the semi-final, and rightly so. They have been the best team in every game they played, whether the led from the start, struggled to break a defense or had to come back from two-goals down. Brazil didn't manage that.