Brazil - Mexico 2-0
Belgium - Japan 3-2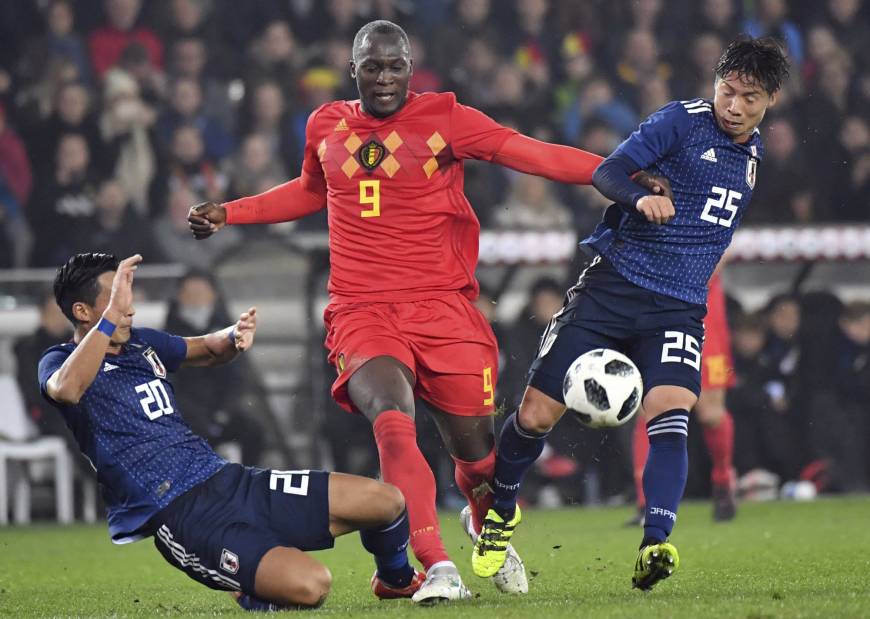 Oh wow! What a beautiful day of football today, with the second half of Belgium - Japan the stuff of legends. Belgium tried to snooze their way through at cruise speed and almost got punished for it. In the first half Japan looked more like the attacking team, the team who actually wants to win the game. They had their chances too, with Courtois barely believing his luck when a ball slipped through his hands but no Japanese striker chased it. All in all though, the first half was... dynamic, yes, but nothing to write home about. It is immediately after the break that the show started, with Japan striking twice within five minutes. First goal, huge defensive mistake, Vertonghen failed to mark his man and Courtois jumped late after the goal. The second was just a beautiful strike, on a par with Modric's against Argentina and a candidate for the best goal of the tournament. No chance for any keeper against that shot. But the two goals did awake the Belgians, with Hazard hitting the post immediately after.
The devil was awake and looking for prey. Believe it or not, but even at 2-0 for Japan I thought the game is very much in the balance, but I knew Belgium needs to wake up fast if they are to win it. And I did not think they'll actually win it without extra time. I thought the Japanese legs will start to tire and the Red Devils will push and push. Well, the latter did happen, Lukaku also missing a good chance after an hour of play. But the Japanese held their own and they did carry on attacking up until the last minute, with the new boy Honda proving himself dangerous on a couple of occasions. It was going to be their undoing.
What they brought in stamina and enthusiasm though they lost in maturity and experience. Not sure they could've closed the game at 2-0, but they never gave it a shot. While the Japanese keeper gave a decent account of himself throughout, including a double save from Chadli and Lukaku in quick succession, his naivete got the better of him on the first Belgian goal. Vertonghen never meant to score and an experienced keeper would've chased that ball outside, but he lost his footing trying too hard to cover the short angle, when the biggest danger wasn't there. A beautiful goal, but one that the Samurai could've done without.
The second Belgian goal, they couldn't have done much about. Two defenders jump with Fellaini for the cross. They reach to somewhere around his chest. Many people are doubting Fellaini's usefulness and ability, but those people don't understand the game of football very well. Today he completely revitalized the Belgian attack, together with the unlikely hero Chadli, from whom I would not have expected such heroics. Meanwhile, Alex Witsel was an illustrious nobody and De Bruyne struggled to find the magic touch.
And the last goal, the one who broke the Japanese hearts, was a piece of beauty. Goal to goal in three passes, defense caught completely out of balance, easy tap in from, yes, Chadli. It mattered not which side of the final whistle the goal would've come. With the Belgians unleashed, the Japanese would not have lasted another 30 minutes of pressure, so penalties were out of the question. But just like Belgium didn't see the signs in the first half, when Japan came running out of the block-starters, the Japanese didn't see the warning to switch to cautious mode once the first Belgian goal got in.
Japan go home, but they do so along a huge cheers from the neutral and with a renewed capital of sympathy that is their usual lot at World Cups. And they can take this as a lesson, so that in 2022 they'll come prepared to qualify out of the group stage - maybe on a stronger claim than the fair-play rule - and be prepared to launch a more serious assault on the knock-out rounds, with a with to go one step further. Their horrible approach to the game against Poland is largely forgotten, though I have a feeling that the people of Senegal are also celebrating tonight.
Belgium meanwhile are getting ready to get their asses kicked by Brazil, who are sort of a Japan on steroids: same positive intent, but with a lot more efficiency, a lot more maturity and the quality and experience to at least match the likes of Lukaku, Hazard or De Bruyne.
All of that said, however, Brazil also struggled to get past Mexico today, a lot more than the scoreline suggests. It was a very well balanced game, with both sides looking for the killer blow the second they stepped on the pitch, both sides finding spaces and the keepers being kept busy for 90 minutes. Mexico were really unlucky to meet Brazil so early in the competition, they could've easily done aside with 11 out of the other 14 teams in this round (France, Uruguay and Croatia the troublemakers). They gave it a go, we saw a good game and they had their chances, but despite his primadonna shenanigans, that Neymar dude is fast. Chicarito and Carlos Vela are good players, but a class below Neymar or Jesus. They too return home on a Mexican wave (see what I did there?) of sympathy, but knowing they should've stayed that little bit longer.
So who will beat Brazil? Not Belgium, that's for sure.