Denmark - Australia 1-1 (Eriksen '7 - Jedinak pen '38)
France - Peru 1-0 (Mbappe '34)
Argentina Croatia 0-3 (Rebic '53, Modric '80, Rakitic '90)
Denmark is the perfect example of how one can qualify from a group without deserving it the least bit. To sit under the cover of that one second of inspiration from Eriksen and be thoroughly dominated by Australia is almost cheating. To not show any sort of determination of will to play anything resembling football is an insult to everyone watching and I hope the Danes will be ashamed of themselves, because that was appalling. With the point against Australia they are now in a more comfortable position than they ever deserved and it is a great, great shame the Aussies didn't manage to snatch the victory in the end, a victory they would have fully deserved and they worked for way more than their opponents.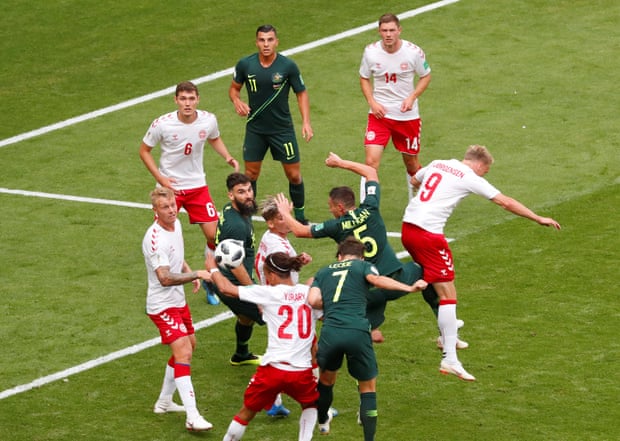 Now, was that a penalty? I'm inclined to say yes, though I will admit an argument to the contrary can be made. Fact of the matter is, the rules of the game are not clear at all in regards to 'intention to touch the ball' and 'natural position of the hand'. My rule of thumb is, if the hand is away from the body, you're always in danger of conceding a handball, and players must surely know this. No idea what Poulsen intended, but sure as hell he didn't regret hitting the ball with his hand. Or wouldn't have, should the penalty not have been awarded. Poulsen is a good player and his goal against Peru might just see Denmark through, but he is also responsible for penalties in both their games so far. That is an indication of immaturity in the game, and my good opinion of him after watching only the second half against Peru has toned down a lot by now.
Australia might fare a lot better if Jedinak would at least try and smile every now and then. Too tense, mate, too tense. Beating Peru is still a big ask, even with the South Americans out of the competition, but I hope they can pull it off while Denmark gets a battering from France. I really, really feel for the Blanquirrojas, they deserved to qualify and it would be a real shame for their supporters to go home without a point, even though in this instance is for the greater good.
But that missed penalty proved their undoing and, unfortunate as it might be that your fate as a team hinges on such a brief moment, it's been known to happen and the Peruvian players along with the whole country that provided them a huge support so far are now learning a painful lesson about the cold-blooded pragmatism needed to go forward in a World Cup.
To be fair, they never looked like beating France, but they gave a good account of themselves. The French, meanwhile, won their first two games and are poised to win the group. Small margins, but there's something to be said about preservation of energy as well when you knew Argentina might lie in wait in the first knock-out round.
Now, about that...
One of only two players to have missed a penalty in this World Cup so far has to beat Nigeria and hope for the best from the other games to see quarter-final football. Of course, he can't do it by himself. He can't seem to do anything by himself, save for maybe sabotage the tactics of his entire team by always asking for the ball, then losing it. Truth to be said, the Croatians didn't give him too many chances to see the ball, so he lost a lot less than against Iceland.
Delightful, absolutely delightful the way Croatia just brushed past Argentina. Modric and co look a very strong proposition, and won't say no to repeating the semi-final worthy performance of 1998 when they eliminated Romania in the last 16, the bastards. Just as long as they don't meet France in the first knock-out game, though it will take some huge upsets for that to happen at this stage.
Both Croatia and Argentina showed a very strong, manly, almost brutal football at times, but it was all pleasant to the eye, it showed they're really going for it and not there just for a trip on the Federation's expense, like the Danes. The lesson to be learned for Argentina is be more disciplined and don't make silly errors, Caballero! And for the love of God, drop Messi from the team.