So I mentioned a treble earlier today, and things didn't quite turn out as such.

Scotland - Czech Republic 2-0
The Czechs were in fact the only ones to hold their part of the deal. A very excited Hampden Park was expecting a lot from the Scottish side, but I'm afraid they don't have a lot to offer. The Scots are full of heart and enthusiasm, but that only takes you so far. The Czechs came up with something a lot more interesting: a game plan.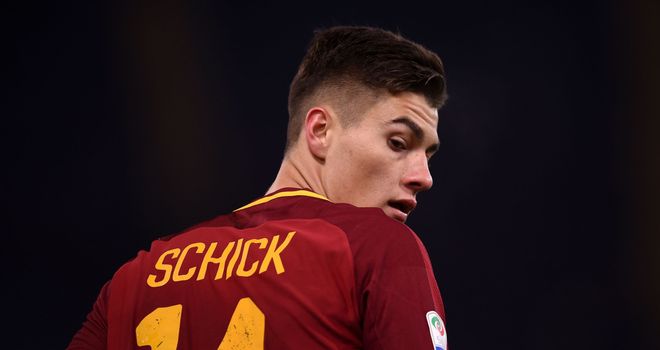 Le Freak
The Czech defense was stable as an inert gas, I haven't seen their back four breaking formation once during the 90 minutes. Although Scotland did have a few opportunities, including hitting the post once and a last-ditch intervention by the keeper late in the game, none of them materialized. At the other end, going forward, the Czechs were a lot more methodical in building their attacks and looked much more of a threat. Even so, it could've easily been a 0-0 draw, bar a couple of moments of magic from Schick. Jumping above two Scottish defenders for the first goal was impressive, but it's the second goal that's gonna make the headlines for many years to come. Exquisite shot from the halfway line, and no excuse for the Scottish keeper to be as far out as he was. But if it's one thing that Scotland showed, it's lack of maturity, and it was here that was the most obvious.
I am sympathetic towards Scots, but I think we're looking at 4th place in the group for them. Assuming England beats Czech Republic to win the group (although it won't be as straightforward), Czech Republic - Croatia is going to be a very interesting game. Croatia looks stronger on paper, but the Czechs also look like they know what they're doing. In the end, I think all three will qualify.
Poland - Slovakia 1-2
This one looked like a done deal, though apparently Slovakia didn't read the script. All of a sudden, Poland looks like an over-hyped team relying heavily on a star player that can easily be annihilated without good service from midfield. There's no doubt that Lewandowski is a top player, he's strong, his movement is good and he's very much goal-oriented, but the Slovaks did just enough to cut him off from midfield service, so that Polish goal opportunities ended up being relatively few.
To individual star-power, Slovaks opposed a very well consolidated team spirit. Hamsik is clearly their star, but he didn't play like one. He played for the team and he did a great job of supporting his team-mates, so that they were able to be equally dangerous on the attack from both sides.
Slovakia clearly dominated the first half, but with the Poles equalising so quickly after the interval, it still looked that the momentum is shifting towards the favorites. Kudos to Tarkovic's boys though for not losing their temper, for absorbing the pressure and taking advantage of the opportunities when they arose.
With three points in the bag and with a performance to be proud of, they can now be optimistic about the remaining two games. Qualification is not going to be easy, but it's certainly a stronger possibility now than it was yesterday.
Spain - Sweden 0-0
The other game in the group was also a banker for the bookies. Spain looked and played like favourites, and the stats are insanely balanced in their favour. But it's not possession that gets you points, and 20 shots on goal are useless if none of them is converted. It's obvious that Spain are going through a generation change, they are a team in transition. They're trying to emulate the style that won them 2 Euros and a World Cup 10 years ago, but individual value has significantly dropped, and today's Spain, despite the attacking intent, feels a bit toothless.
On the other hand, Sweden set out to defend for 90 minutes. But they were more efficient in this than, say, Turkey against Italy. Two lines of defense, and crowd the box with enough bodies so that there's no space for the ball to go through. Any attacking threat from Sweden came from Alexander Isak, a name I feel we're hear more often in the years to come. He ran a lot, fought the Spanish defense to the point that Sweden, with it's 18 percent possession, came close to scoring on a couple of occasions, but he had zero support.
In order to score goals in football you have to have the ball, and Sweden didn't, really. However, having the ball is not enough, as Spain has just shown.
As the game drew to a close, in the last 10 minutes or so, it felt like both teams are happy with a goalless draw, despite Spain's late attempts to chase a goal. And I'm really hoping this was a natural course of the game and not some petty number-crunching in the knowledge that Poland lost three points and Slovakia looks beatable. Whether it was this or not, I'd like for Slovakia to upset the group a tad more. Judging by today's games, I see Poland finishing last in the group. I reckon Spain will beat Slovakia, leaving them to battle it out with Sweden for second place. And I feel in that game Sweden might have a different approach.
Only two games tomorrow, but the most interesting so far. France - Germany is impossible to predict, even though France looks a slight favorite. Well known football fact is that underestimating Germany is about the biggest mistake one can make in this sport. In the other game, Portugal is facing Hungary in a game which should be fairly uni-directional. I'm thinking 3-0 Portugal.