Hungary - Portugal 0-3
It is a well-known truth throughout Europe that Orban is bad for Hungary. Poor Willi was about to discover exactly how bad: even bearing his name will bring the curse of ill reputation upon your head.
Things were going swimmingly for the hosts: full stadium, home fans, Portugal kept at bay as we were heading into the final minutes of the game, so much so that the Lusitans were becoming frustrated, nervous and throwing everything forward, thus opening the possibility of snatching that ever-important scoring counter-attack in the closing minutes.
But then, all out of nowhere, like a vacuum opening underneath and an unstoppable force pulls you down, things went to shit for poor Willi Orban: Guerreiro's hopeful shot pushed into his own goal, yellow card and penalty conceded quickly to follow. And just like this, within 3 minutes, it was all gone: any hopes for qualification, points, or some sort of achievement for Hungary to take pride in.
Although, credit to them, the ultras boys were undeterred, applauding their team and staying behind to sing the national anthem. Well, yeah, of course they're the conservative, homophobic, anti-European public Viktor Orban's populist speech panders to, but let's leave politics out of this one, shall we? Just enjoy your football, why don't you, Ukraine?
Like Spain - Sweden, this one also looked the type of game where they only really need half of the pitch. Portugal really has a solid, star-sudden, powerful team, and they started as was expected of them. And here's a controversial opinion: Ronaldo is a more useful player for Portugal today than he was 5 years ago. Back in 2016 he was in top shape, still in his best years, playing some of his best football and winning Champions League trophies for sport (so to speak). So naturally, when diva came to the National team, diva wanted the team to play for him. Which is why it was necessary for him to go out before the team could score the goal that actually won them the tournament. Fast forward 5 years and he's 36, team are no longer bidding insane amounts of money for him and that insanely high jump takes some panting after. So he has to actually put in the leg work, do the running and the kicking. He's still a fabulous player, for sure, and sometimes the way his body bends and moves make me think me might not actually be human, but father time is there, in the front row, waiting patiently. And the wait keeps getting shorter.
Also, I get that he's got records to hit and all that, but that's why people call you Penaldo. Why couldn't you let Bruno take that one, you prick? At least it was a brilliant penalty, shot the speed of a tennis ball, no longer the weird stop before shooting. Or just a miss, like in the 2008 final (oh, yeah, you think I'd forgotten?).
The third goal, ok, that was insane. The speed, the technique, poor Hungarian defense was already groggy and this one completely stunned them. To the victor go the spoils, but if we take out the last 5 minutes, the game tells a different story: superstar team incapable of breaking down a disciplined defence, not a lot of shots on goal and generally showing their limits surprisingly quick. Furthermore, Hungary did score, after a brilliant counter-attack. Offside, yes, but not by much. About as much as Ronaldo's offside for the third goal. Well, in fairness, I thought Portugal should've had a penalty at 0-0, for handball, but I don't know, maybe they decided VAR is more of a consultative thing this time?
So for now I'll stick with Portugal as my favourites, but I might switch soon. After the first round, Italy is clearly the team that impressed the most. I will throw France in the mix too as, unlike Italy, they had to actually overcome stiff opposition and, surprise-surprise, Slovakia. It's gonna be a hard-knock life for the Slovaks, but get a point against Sweden and you're qualified. Then in the knockout rounds, anything can happen.
Germany - France 0-1
Tournament is 5 days old and already we had something of a final. The pundits will be jubilating, as France was favorite and they actually won, deservedly so too. But the margins in this game were so fine, it could have easily gone completely different.
Poor Hummels' own goal was really FUBAR: he was under no pressure, he had so much time and every opportunity to throw the ball out. But such is life. Sometimes you're the dog, sometimes you're the tree. And it's easy for me to speak, I don't have Pogba's wonder passes flying over my head.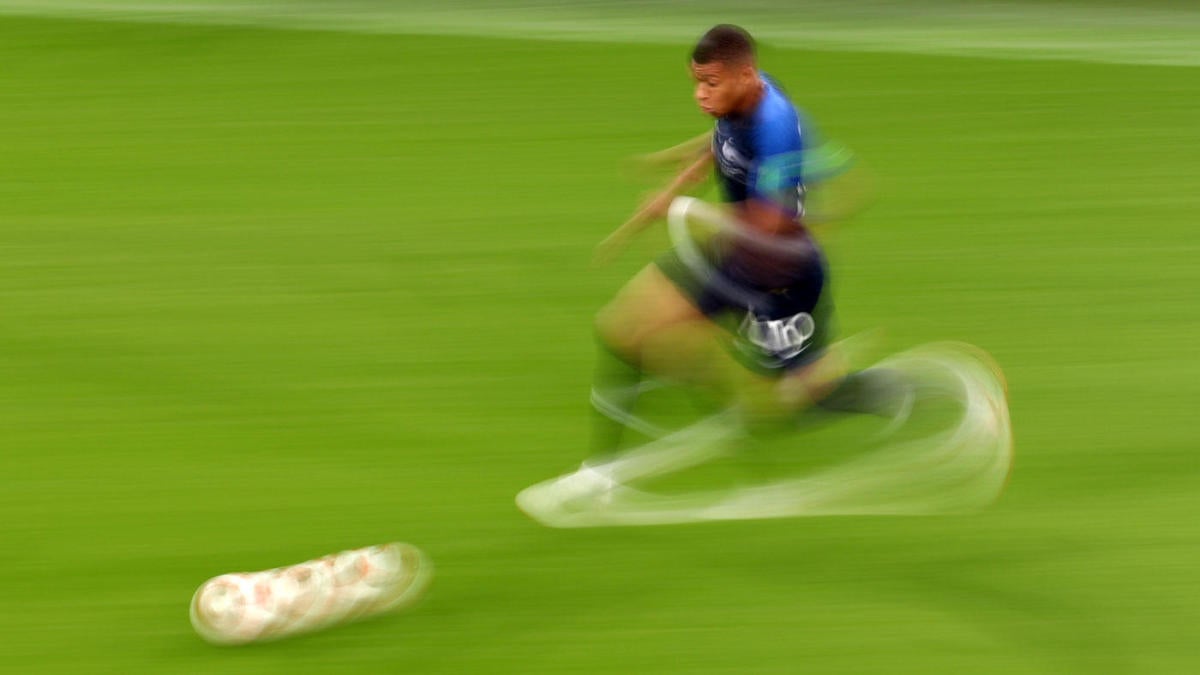 Mbappe, f1.2, exp. 1/2000
Even so, after going 1 down Germany took full control of the game and at halftime, I was fairly confident they'll get back into the game, maybe even win it. But second half came about and it taught me an important lesson: you want to get from a city to another faster than the train, just ride Mbappe. I mean, German defenders tried, and he still got to the ball before them pretty much every time. Germany is still one of the best teams in the competition, but when Kylian steps on it, The Flash is struggling to keep up. Sometimes he passes to Benzema that doesn't even need to break stride to break the net; other times he scores himself, with shots so well placed you're looking for the remote.
Both goals were canceled, both rightly so, and that's a shame only because they won't be included in future goal reels. They were both works of art IMHO.
At the other end, I must say I haven't heard of that Gosens kid before today, but boy he can curve a ball! Add Toni Kroos' dead-ball near misses and it becomes obvious that Germany still carries a powerful threat to everyone who set out to win the Euros this year. And in actual fact, the result is somewhat irrelevant: beat Hungary, draw Portugal, qualify with four.
That's why I'm really happy this was a really good game, much better than what the scoreline might suggest.
Round 2 starts tomorrow, with England playing at the exact same time the show at Aruba Bournemouth starts on Friday. It's ok, we'll have a lot of hens and I'll catch up on the eeked out victory over the Scots later. In the meanwhile, I'm going with Finland, Wales and Italy to win tomorrow and if they do, groups A and B should largely be sorted. Oh yeah, I trust Wales to get to the last 16. Dan James is my Fantasy captain.